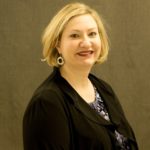 Pastor: Rev. Erin Michelle Weaver
Rev. Erin Michelle Weaver began her ministry as pastor of Linden UMC in July of 2018.  She is a native Texan and grew up there with her parents and three brothers.  Erin Michelle received her undergraduate degree from The University of Texas at Tyler where she majored in English and minored in psychology.  Before going into ministry, she chose to gain some "real world" experience in education, finance, and continuing care.  Erin Michelle received her Master of Divinity degree with a concentration in Care Giving from United Theological Seminary in Dayton, OH.  Upon graduation, she served churches in Dobson, Canton, and Salisbury, NC as well as being on staff at Zionsville UMC in Indiana.  She was ordained as an elder in the Western North Carolina Conference in 2016.
Erin Michelle is passionate about ministry and enjoys preaching, discipleship, and pastoral care.  She enjoys serving with people of all ages in the Church.  In her spare time, Erin Michelle enjoys reading, singing, playing handbells, attending plays/musicals, being with friends and family, and playing with her dog, Lacy.